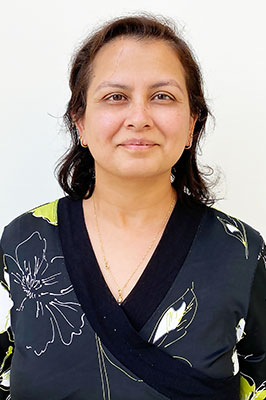 Expertise
Bookkeeping
Cash-flow management
Company records
Accounting software (MYOB, Xero, QuickBooks, Reckon, MS Excel)
Financial reporting
BAS services provided under the supervision of our registered agents.
Experience
Axia Accounts Malaga – bookkeeper
Principal. Perth, 2016 / today
Mobile bookkeeping and accounting services, cash-flow management, trust and company administration.
Client testimonials:
"Since taking over doing the books for my business I have always found it very daunting. After many mishaps, costly bad choices and agonising hours I finally bit the bullet and looked around for a bookkeeper are were lucky enough to come across Sheetal Shah. She has been working on the books now since September 2016 and has offered such excellent service, highly experienced, punctual, professional and provides high standards of her work. I wished I had found Sheetal 6 years ago. Thank you Sheetal for always being there for me, your patience and most of all finally getting MYOB to the standard it should be." Business owner (commercial & industrial flooring), Bayswater, WA.
"I want to say thank you so much for making my tax return easy. All I had was a whole year of receipts stuffed into a shoe box and thought my tax would be a huge headache, especially working in the entertainment industry and working several jobs that year. Your service was fast, efficient and affordable. I was very happy with my large return and also I didn't have to do any work or have any stress! I will definitely be going back to you and recommending you to others. See you in July." Thanks again, Catlin.
Nexia Corp
Bookkeeper
2015 – 2016
MYOB, Xero and QuickBooks bookkeeping services for business clients.
Auditplus Solutions
Management Accountant/Office Administrator
2014 – 2015
Maintaining and updating the Accounting package (MYOB) on a daily basis. Processing the payroll and preparing bank reconciliations. Preparing BAS, GST reconciliations, budget and forecast reports. Processing supplier invoices for payment and following up accounts receivables for payments. Invoicing clients for audit work done. Keeping an up-to-date record of office disbursements and maintaining the company's petty cash. Organising staff functions and team building activities.
Rick Hart, Chantilly Financial Services Pty Limited & Shah Partners
Bookkeeper
2011 – 2013
Providing bookkeeping services and preparing financial reports for year end audits for several different entities and preparing BAS and GST reconciliations.
Capricorn Mutual Management Pty Limited
Management Accountant
2007 – 2011
Maintaining cash book, ledgers, journal and the company's accounting package. Preparing cost accounting reports, budgets and forecasts. Maintaining and reconciling of creditors and debtors ledgers. Preparing PAYG reconciliations, online bank payments, BAS and GST reconciliations. Assisting the Finance Manager with monthly management reports. Assisting the company secretary with preparation for board meeting reports.
Rongai Workshop & Transport Limited (Nakuru, Kenya)
Management Accountant
2004 – 2007
PKF Kenya Limited (Nakuru, Kenya)
Audit Senior
2000 – 2004
Education
Association of Business Executives (A.B.E)
Association of Certified Chartered Accountants (ACCA)