Zero cost – How can that be?
Here's how a new automation feature will give you a great business cashflow boost.
One of the most important accounts procedures which is crucial to most businesses (except retail) is to get your invoices out on time.
For example, you do a job today which ideally means your invoice should go out today.
Or maybe you bill clients a set fee every month where your invoices need to go out on time too.
Late invoicing
You may offer 7 or 14 days terms with you which means payment will be delayed up to that amount of time so invoicing late puts more strain on your cash-flow position.
Moral of the story – invoice on the same day.
Okay, we get it – but why is this a problem?
Answer: Our time!
We have the best intentions to invoice on the day but we often have other constraints on our time.
Well, if you're not using this already, there is a great solution if you invoice frequent fixed amounts to some of your clients.
Automatic invoicing
So, say for example you have a number of clients that you invoice on the 1st of every month.
I actually have 16 such clients. It takes one and half hours a month to create the invoices and email them to each client.
My bookkeeper used to do this at a cost to me for $75 per month + gst.  And they would have to come in on the 1st of every month.
Now with automatic invoicing available in most cloud-based accounting packages like MYOB, Xero and Quickbooks I am able to automate the creation and sending of these emails.
(Above is how you setup automatic invoicing in Xero called a "repeating invoice")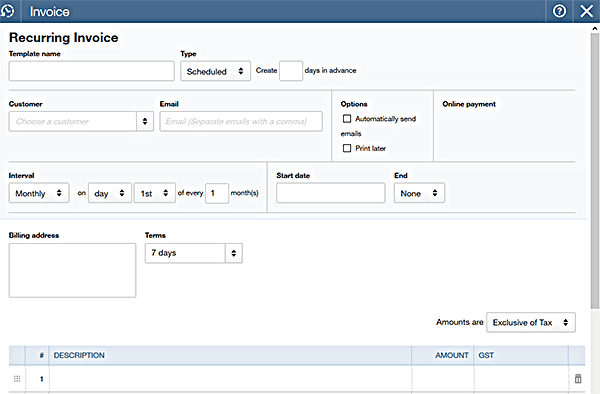 (Above is how you setup automatic invoicing in Quickbooks called a "recurring invoice")
Overall, here are the benefits of implementing automatic invoicing:
One and half hours saved each month for a cost of $75 p/m + gst or $900 +gst annual saving
No need for my bookkeeper to come in on a set day every month
Improves my business cashflow as the invoices go out on-time.
If you have fixed client billing you can do this too.
This may include these services:
Monthly maintenance programs (cleaning services, gardening, website services, etc)
Software subscriptions
Training programs (fixed monthly fees)
Regular licencing fees
Payment plans
Rent for property (as a landlord)
And so on.
By the way, this is a cloud accounting software benefit as the automatic invoicing occurs in the background even if you don't log in or go to the office.
Ask your bookkeeper to set this up for you or call us at Axia Accounts and one of our mobile bookkeepers can assist with this.