Whilst there is a good opportunity to provide bookkeeping and accounting services to business owners, building your own bookkeeping business comes with it's challenges. There is high competition amongst existing bookkeepers and accountants for clients.
So what are your best options for buying or starting your own bookkeeping business in Australia?
You generally have three options:
1) Start your own solo business
A bookkeeper may have some contacts and get a bit of work from them, but usually solo bookkeepers find it difficult to attract new clients outside their few contacts. Hence the business generates a low amount of revenue and usually doesn't grow over time.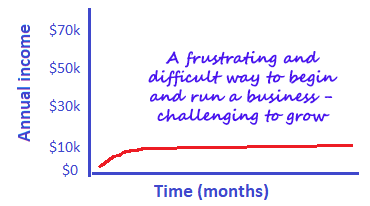 Pros: Low startup costs
Cons: Very challenging to get a number of new clients once existing contacts have provided some initial clients. Difficult to build a full-time income. Limited resources. In business by yourself (no one helps you).
2) Buy an existing bookkeeping business with clients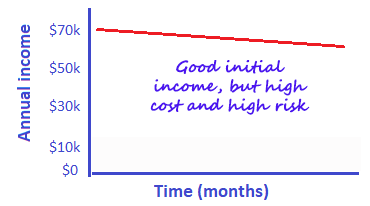 Overall, Australia wide, the going rate is $1 for $1 revenue. So a $70k annual revenue bookkeeping or accounting business is valued at $70k (or more).
Pros: Start immediately with client work.
Cons: High cost. You have to pay the seller 100% of the purchase price up-front ($70k, $100k, etc.). You may need to borrow the money from a bank and pay interest. No guarantee those clients will stay with you after 12 months. High risk.
To see what bookkeeping business are for sale, check out this link:
https://www.businessforsale.com.au/buy-business/type/bookkeeping/1
3a) Join a bookkeeping franchise business, like First Class Accounts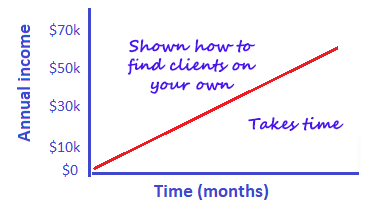 Pros: Professional training and image
Cons: Initial fee from $30k (no clients provided for this fee). You have to market yourself to find clients at your own time and cost. Usually have to travel and pay accommodation in Sydney, Brisbane or Melbourne for a week or longer for the franchise training.
3b) Join the Axia Accounts bookkeeping franchise business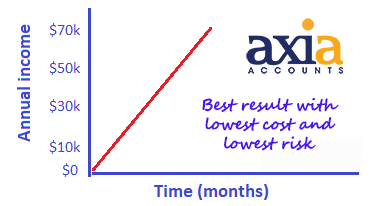 Pros:
Low initial investment (under $8k)
Professional training and image
Includes MYOB and Xero training
Work Guarantee – clients provided
Local training in Perth (for Perth franchisees) and local training in Sydney (for Sydney franchises).
Cons: Must have some bookkeeping experience.
Clients are provided to Axia franchisees via our Work Guarantee program. Here is an Axia Accounts franchisee at the office of a new provided client…
For more information about the Axia Accounts or Axia Accounting franchise system, contact Michael Pedley on phone: 0418 912 477 or via email.